Advantest Introduces Products for the "Connected World" at SEMICON West 2016
Advantest participated in the annual SEMICON West show at San Francisco's Moscone Center from July 12-14, 2016, showcasing a broad spectrum of semiconductor test solutions and highlighting a number of new product introductions.  Under the theme, Measure the Connected World … and everything in it, Advantest debuted three new modules for the V93000 single scalable platform.  The new Wave Scale RF and Wave Scale MX cards enable the V93000 to achieve unprecedented levels of parallelism and throughput in testing radio-frequency (RF) and mixed-signal ICs for wireless communications, reducing both the cost of test and time to market.  Additionally, the DC Scale AVI64 universal analog pin module gives the V93000 platform the industry's broadest capabilities for testing power and analog ICs used in mobile applications.
In its booth, Advantest also highlighted two SoC test solutions – the highly flexible T2000 platform, which gives customers access to high-volume markets with minimal investment, and the EVA100 tester for digital and analog testing of small-pin-count semiconductors.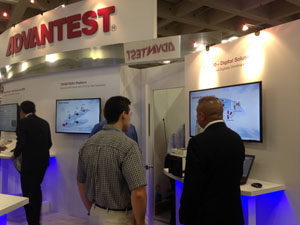 For customers in the memory IC market, Advantest displayed the high-productivity T5830 memory tester, offering low cost of test for virtually any Flash memory.
A large digital display featured the HA1000 die-level handler for probing individual dies, unpackaged 3D stacks and 2.5D devices.
To meet the needs of the growing solid-state drive (SSD) market, Advantest showcased its MPT3000 system, designed for rapid development and production ramp up of SSD designs.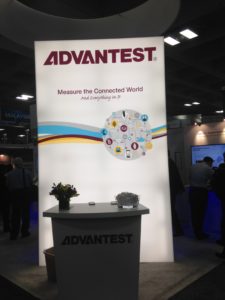 In addition, Advantest showcased other offerings including the company's TAS product family of terahertz analysis systems that enable spectroscopic imaging and measurements; nanotechnology E-beam lithography for nano-patterning and MVM-SEM® for nano-scale measurement; the EM360 dashboard, enabling complete test-floor management and planning; the M6245 and M4871 handlers that boost testing productivity; Advantest's innovative CloudTesting™ Service for on-demand testing; and specialty products such as the MicroLTE portable test system and SmartBox™, a diagnostic test solution for mobile communication devices from W2BI, Inc., an Advantest Group company.
Advantest technologists were also active in technical sessions during SEMICON West. In the Test Vision 2020 program, Derek Floyd presented his paper on "New ATE Solutions for Upcoming Analog Test," and Dave Armstrong discussed how "Thermal Testing of Singulated Devices Gets Us Closer to Known-Good Die/Stack."  During the technical session on Analog and New Frontiers, Advantest's Takahiro Nakajima spoke on "Test Challenges for Future Automotive 100M/1Gbps Ethernet PHY."