April 2020 Issue
TOP STORIES
Solving 5G Wireless Test Challenges
Many companies, especially fabless chipmakers, are looking at how the 5G network will be formulated, as their products will need to change in order to meet the criteria for connecting to the network. Makers of sub-6GHz, millimeter-wave (mmWave), Wi-Fi, Bluetooth, WiGig and other types of chips are all looking at how they will need to adapt their future devices to this purpose. Read More.
Enabling Smart Manufacturing
Widely considered the next industrial revolution, smart manufacturing is quickly becoming an important aspect of semiconductor production and test. Combining the physical and virtual worlds, a smart plant can operate at higher levels of productivity and energy efficiency and turn out higher-quality products. Read More.
---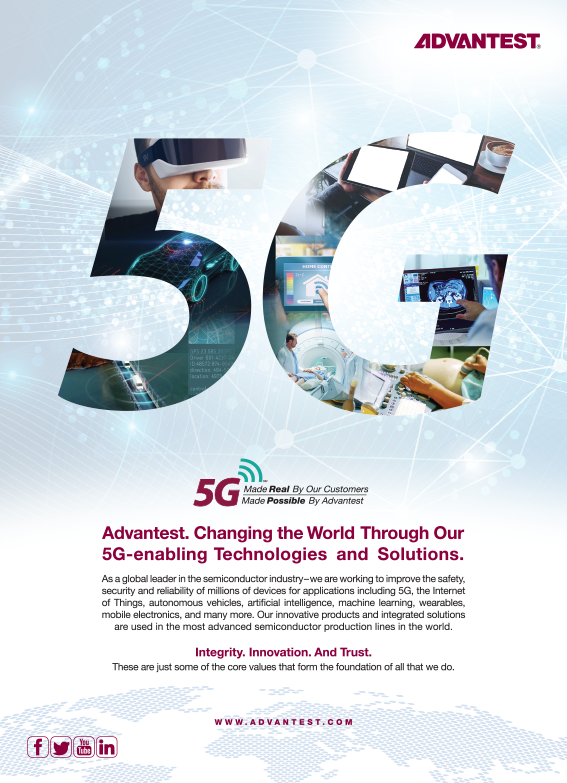 ---
GO POLL
During this unprecedented time of practicing social distancing, what is the biggest challenge you face? 
Share your thoughts by taking the GO POLL.
Have an idea for future polls? Email gosemi@advantest.com
SPOTLIGHT ON BUSINESS
Q&A Interview with Judy Davies, Advantest
As COVID-19 continues its global spread, tech conferences and tradeshows are being postponed or outright cancelled to help protect the health of attendees, exhibitors and organizers. Advantest joined this effort with its VOICE 2020 Developer Conference, cancelling the Shanghai event and rescheduling the U.S. event in Scottsdale, Arizona, to September 29-30. Judy Davies, VOICE Ambassador and vice president of Global Marketing Communications, Advantest America, shares the company's perspective on the outbreak and its impact, and offers a hopeful note for our industry and our world post-pandemic. Read More.
FEATURED STORY
Finding the Optimum Test Solution for Next-Generation Automotive ICs
Our world is changing, driven by technological advances in areas as varied as artificial intelligence, the Internet of Things, smart factories, green energy, energy storage, drones, security, and smart appliances. The automotive industry is leveraging the same technologies with the arrival of hybrid electric vehicles (HEV), plug-in hybrid vehicles (PHV), all-electric vehicles (EV), autonomous driving, and connected cars, and it will be a key driver of technology moving forward. Read More.
FEATURED PRODUCT
Advantest's New H5620 Tester Performs Both Burn-in and Memory-cell Testing to Address the Rapidly Growing Demand for DDR DRAM Units
Advantest introduced its new versatile, high-throughput H5620 memory tester that combines the capabilities to perform both burn-in and memory-cell testing for advanced DRAMs and LPDDR (low-power, double-data-rate) devices. Read More.
FEATURED EVENTS
Advantest Postpones VOICE 2020 in Scottsdale to September 29-30
Advantest announced the postponement of its VOICE 2020 Developer Conference in Scottsdale, Ariz., due to health and safety concerns over the COVID-19 pandemic. The two-day conference will now take place September 29-30, 2020, with a Workshop Day on October 1, 2020. The Omni Scottsdale Resort & Spa at Montelucia in Scottsdale will remain the venue for VOICE 2020. Read More.
Advantest's Inaugural Virtual Tradeshow Draws Nearly 200 Attendees from 47 Companies
Reacting swiftly to the cancellation of some of the industry's most critical trade shows and gatherings, Advantest hosted a virtual tradeshow on March 10-11 to share valuable technical and market data with its customers worldwide without risking attendees' exposure to potential illness from the coronavirus (COVID-19). Read More.
ADVANTEST NEWS
UPCOMING EVENTS
European Test Symposium
Tallinn, Estonia, May 25-29, 2020
http://www.ieee-ets.org/
SEMICON China
Shanghai, China, June 27-29, 2020
http://www.semiconchina.org/

SEMICON West
San Francisco, CA, July 21-23, 2020
http://www.semiconwest.org/

Flash Memory Summit
Santa Clara, CA, August 4-6, 2020
https://www.flashmemorysummit.com/
SEMICON SEA
Kuala Lumpur, Malaysia, August 11-13, 2020
http://www.semiconsea.org/
Micro and Nano Engineering Conference (MNE)
Leuven, Belgium, September 14-18, 2020
https://www.mne2020.org/
SEMICON Taiwan
TaiNEX1, Taiwan, September 23-25, 2020
http://www.semicontaiwan.org/en/
VOICE Developer Conference
Scottsdale, AZ, September 29-30, 2020
https://voice.advantest.com/locations-and-dates/
International Test Conference
Washington, DC, November 3-5, 2020
http://www.itctestweek.org/
SEMICON Europa
Munich, Germany, November 10-13, 2020
https://www.semiconeuropa.org/
MEDICA
Dusseldorf, Germany, November 16-19, 2020
https://www.medica-tradefair.com/
SEMISREAL Expo
Airport City, Israel, November 17, 2020
https://www.semisrael-expo.com/
SEMICON Japan
Tokyo, Japan, December 17-19, 2020
https://www.semiconjapan.org/en/  
ON THE LIGHTER SIDE…