February 2018 Issue
TOP STORIES
Preparing Solid-State Drives for Qualification Testing
The market for solid-state drives (SSDs) remains strong. International Data Corp. (IDC) recently released figures forecasting a five-year compound annual growth rate (CAGR) of 15.1 percent in worldwide SSD unit shipments with SSD industry revenue expected to reach $33.6 billion in 2021. With SSD usage growing in PCs, consumer electronics and other applications, qualification testing has become increasingly critical as has finding ways to make the process faster and less costly so that SSDs can be brought to market more quickly.
Read More.
Speedier, More Accurate Testing of Automotive Sensors Is Here
The amount of electronic content in automobiles continues to grow at a brisk pace, and sensors represent a significant percentage of cars' electronics. MarketsandMarkets estimates that the automotive sensors market alone will reach US$36.42 billion in value by 2023, at a compound annual growth rate (CAGR) of 6.7 percent between 2017 and 2023. 
Read More.
Automated Pick-and-Place Handler Enables Test Engineering Efficiency in Lab Environment
In the laboratory environment, the principal goal is to complete development and pre-production testing of integrated circuits (ICs) as quickly and cost-effectively as possible. An associated challenge is to ensure that tester and operator resources are utilized efficiently so that testing can be completed on or ahead of schedule, further improving time to market (TTM).
Read More.

FEATURED HIGHLIGHTS
Featured Event:  Advantest's VOICE 2018 Registration Discount Ends March 9
Now in its 12th year, the Advantest VOICE Developer Conference will be held in San Diego, California, on May 15-16, 2018, and in Hsinchu, Taiwan on May 23. Online registration is open with a 20-percent discount offered for the San Diego event through March 9. Both locations will include comprehensive learning and networking opportunities; an enhanced technical program; a Partners' Expo; social gatherings; and an expanded Technology Kiosk Showcase.
Read More.
FEATURED TECHNOLOGY

Advantest Extends its T2000 Product Line with Two New Modules Optimized for Testing High-Power Analog ICs Used in Electric Vehicles
Advantest has introduced two new modules that enable its T2000 IPS system to test high-voltage and high-power devices used in the power trains of electric vehicles (EV/HV).  The new enhanced MMXHE (multifunction mixed high voltage) and MFHPE (multifunction floating high power) modules enable massively parallel, high-performance testing by leveraging Advantest's innovative multifunctional pin design, which allows unprecedented flexibility in assigning test resources to any pin.
Read More.
SPOTLIGHT ON BUSINESS

Q& A with Doug Lefever
Doug Lefever, President and CEO of Advantest America discusses his relationship with startup, Silicon Catalyst, in this interview which originally appeared in the Silicon Catalyst newsletter.
Read More.

ADVANTEST NEWS

UPCOMING EVENTS
Please plan to visit or join Advantest at these upcoming events:
Mobile World Congress
Barcelona, Spain, February 26-March 1
https://www.mobileworldcongress.com/about/
DATE 2018
Dresden, Germany, March 19-23
https://www.date-conference.com/
GSA Silicon Summit
San Jose, CA, April 19
https://www.gsaglobal.org/2018ss/
VLSI Test Symposium (VTS)
San Francisco, CA, April 22-25
http://tttc-vts.org/public_html/new/2018/
IEEE NATW
Essex, VT, May 7-9
http://natw.ieee.org/
GSA Global Leadership Summit
May 16, Shanghai, CH
https://www.gsaglobal.org/2018gls/
VOICE 2018
May 15-26, San Diego, CA
May 23, Hsinchu, Taiwan
https://voice.advantest.com/
ON THE LIGHTER SIDE…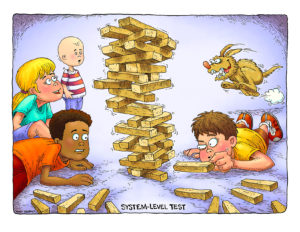 GO POLL



Share your thoughts by taking the GO POLL. Have an idea for future polls? Email gosemi@advantest.com
Do you have questions, comments or feedback about GO SEMI & BEYOND? Let us know!