July 2016
July 2016
TOP STORIES



Flexible, Massively Parallel RF Device Testing Is Here
Today's interconnected world provides great conveniences and many opportunities for staying in touch with family, friends and colleagues – not to mention our physical environment and our own health. Our daily lives are replete with smartphones, tablets, cameras, RFID tags, and wearable/sensor-driven devices – all of which require semiconductor ICs to perform to specification. In the wearables category alone, industry estimates project an annual $5-8 billion demand for ICs to supply this market, driven by requirements for low power, connectivity, sensors, and touch and voice interfaces. Read More.
Testing Ultra-Fast Memories…Ultra Fast
Advanced high-speed test is becoming increasingly important as ultra-fast memory ICs are integrated into a greater number of end products. High-speed memory test systems need to accommodate this trend and offer advanced memory test capabilities for such high-speed ICs. One key category of high-speed memories is GDDR5 (graphics double data rate memory), designed for use in graphics cards, game consoles, and high-performance computational products. These devices include a high-speed parallel data bus that operates at around 8 gigabits per second (Gbps) today and is targeted to go up to 16 Gbps in the future (GDDR5X, GDDR6). Read More.
Advantest Achieves Top 30 Ranking from Green Power Partners
Continuing Advantest America, Inc.'s commitment to conducting its business in a manner that delivers leading environmental, health and safety performance, AAI is very proud to have entered its 5th year having earned a spot on the U.S. Environmental Protection Agency (EPA) Top 30 Tech & Telecom list, which ranks the country's largest green power users in this sector. A new web tool from the EPA shows Advantest America (currently 27th) as well as the other Green Power Partners on the list. Read More.
Advantest Ranks Among 10 BEST Large Chip Equipment Suppliers for 28th Year Running
Leading industry analyst firm VLSIresearch Inc recently released the results of its annual Customer Satisfaction Survey ranking the 10 BEST Large Suppliers of Chip Making Equipment. For the 28th consecutive year, Advantest was named to the coveted list, achieving the #2 spot and increasing its overall satisfaction rating to 9.12 (out of 10). The company has seen continual improvement in this rating for each of the past six years, and it earned scores of 9 or more in 13 of the 15 categories included in the survey. Read More.
Advantest Hosts 10th Anniversary VOICE 2016 Developer Conference
Advantest marked the 10th anniversary of its VOICE 2016 Developer Conference this year with 129 technical breakout sessions, two Partners' Expos, 17 technology kiosks and multiple networking opportunities for members of the semiconductor test industry at dual events in San Diego, Calif., on May 10-11, and at Taiwan's first VOICE conference in Hsinchu on May 18. Altogether, a record high of nearly 600 people attended the events, including 300 industry professionals in Taiwan – the most ever for a VOICE location outside of the United States. Read More.
Advantest Introduces Products for the "Connected World" at SEMICON West 2016
Advantest participated in the annual SEMICON West show at San Francisco's Moscone Center from July 12-14, 2016, showcasing a broad spectrum of semiconductor test solutions and highlighting a number of new product introductions. Under the theme, Measure the Connected World … and everything in it, Advantest debuted three new modules for the V93000 single scalable platform. Read More.
FEATURED PRODUCTS
EVA100 Digital Solution Offers Design-Production Testing
Many IoT-enabled electronic products receive information in analog form, then convert it into signals for transmission. This requires the use of integrated digital ICs. These semiconductors are extremely cost sensitive, and the markets for them are highly competitive. In addition, digital ICs are used in a wide range of applications, many of which impose stringent safety and reliability standards that put a premium on device performance and accuracy. For these reasons, producers of digital ICs typically employ high-mix, low-volume production methods, which require highly versatile and cost-efficient testing capabilities. Read More.
High Resolution TDR Error Detection for Advanced ICs
Electronic device circuit quality analysis is commonly performed using oscilloscope TDR (time domain reflectometry). However, as devices grow smaller and more highly integrated, the ability to locate failures with extreme spatial precision has become increasingly more important. Existing measurement instruments have limited resolution, as the rise time of the short pulse cannot be compressed much further, creating the risk that existing analysis technologies will be inadequate to handle the requirements of the highly integrated devices on the horizon. Read More.
Simultaneous Measurement Solution for High-volume ICs
With market demand growing for price-sensitive ICs used in automotive, smart phone and other high-volume applications, conducting simultaneous measurements of multiple semiconductors has become vital to test cost reduction. Performing such highly parallel testing requires a performance board capable of handling the many circuit loads necessary for testing today's most advanced analog devices. Read More.
Die-Level Handling System Enables KGD Testing
Advantest's new HA1000 die-level handler is a cost-efficient test solution for determining known good dies (KGD) prior to IC packaging. It is the ideal solution for high-growth applications including mobile electronics and high-performance networking devices. With economics a driving factor in die-level testing, determining a semiconductor device's viability prior to packaging or building memory stacks is critical to avoiding rework, achieving high yields and lowering costs. The HA1000's ability to perform pre-assembly testing of singulated devices provides a new level of visibility into the quality of the device prior to committing additional devices and expensive packages to an assembly that could potentially have to be scrapped because of undetected problems. Read More.
Photoacoustic Microscope Furthers Research in Dermatology and Regenerative Science
A new photoacoustic microscope introduced by Advantest enables non-invasive imaging of blood vessels in the dermis to a depth of 3mm, affording researchers in regenerative medicine an alternative to conventional biopsies. Unlike biopsies – which have shortcomings, including limited insight into changes over time – Advantest's new Hadatomo photoacoustic microscope offers researchers a thoroughly non-invasive process, with an ability to easily reference and compare historical results. This new evaluation method is poised to contribute to further advances in regenerative medicine, dermatology, and plastic surgery. Read More.
Wireless Data Logger Revolutionizes Automotive Industry Processes
Advantest's new AirLogger WM1000 is the widely anticipated wireless data logger for commercial applications. Compliant with FCC regulations and certified under the Technical Regulations Conformity System of Japan, the WM1000 has diverse uses in the automobile industry and beyond, from R&D to the production floor. Read More.
Spotlight on W2BI
Interview with Artun Kutchuk

W2BI, Inc., an Advantest Group company, is a leading developer of wireless device test automation products designed to improve quality and time-to-market for customers' advanced mobile devices. GO SEMI & BEYOND sat down with W2BI Vice President of Business Development and Strategy, Artun Kutchuk, to talk about the wireless market's testing needs, why testing Internet of Things (IoT) devices is a different animal with unique testing requirements, and W2BI's pioneering new approach to testing in the age of IoT. Read More.
ADVANTEST NEWS



UPCOMING EVENTS



Please plan to visit or join Advantest at these events:
ON THE LIGHTER SIDE…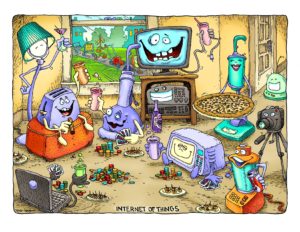 Share your thoughts by taking the GO POLL. Have an idea for future polls? Email gosemi@advantest.com
Do you have questions, comments or feedback about GO SEMI & BEYOND? Let us know!