November 2016
TOP STORIES



Enabling High Throughput and Low Cost of Test for Analog Baseband Processors
Analog baseband processors are communications workhorses. Digital processing streams must be manipulated into analog for amplitude, requiring they be encoded into a form suitable for transmission. The analog baseband processor tackles this encoding, converting the signal before it's fed into a multiplexer that will place the baseband signal onto a relevant transmission channel. Read More.
Analog and Power Integration: The Next Level of IoT Test Demands
Next-generation system-on-chip (SoC) designs – many of which are needed for IoT applications – are driving development of a wide range of smart devices with increasingly integrated functionality such as analog sensing, mobile computing, wireless communications and high-efficiency power management. These smart devices contain more analog and power functions than ever before, enabling advances such as longer battery life for handheld mobile electronics and emerging automotive applications for smart and connected cars. At the same time, these devices present new challenges for test equipment. Read More.
Applying Flexible ATE Technology to Protocol Test and the SSD Market
The technology applications for which a broad range of connectivity and communication protocols can be employed continue to grow. Manufacturers of end products for these markets increasingly need flexible ATE solutions that they can employ cost-effectively to ensure functionality. Read More.
Advantest Announces Dates & Locations for VOICE 2017; Call for Papers Open through Nov. 18
Advantest has issued an international call for papers on semiconductor test solutions, best practices and innovative technologies for next year's annual VOICE Developer Conference. The 2017 conference will again be held in two locations — Palm Springs, California, at the Hyatt Regency Indian Wells Resort & Spa on May 16-17, and VOICE will return to the growing China region with an event at the InterContinental Shanghai Pudong on May 26. Both conferences will feature the theme Measure the Connected World and Everything in It. Read More.
FEATURED HIGHLIGHTS
T5830 System Offers Cost-Efficient Testing of High-Volume, Cost-Sensitive Flash Memories
Advantest's newest memory tester delivers full ATE capability and scalable performance to address the booming IoT and smart card markets. T5830 is the latest member of the T5800 product family, and is optimized for testing a wide range of flash memory devices used in mobile electronic devices. The system boasts all of the capabilities needed to perform wafer sorting and final testing of price-sensitive flash memories. It uses a scalable, built-in high-current programmable power supply (PPS) architecture that provides the flexibility and economic performance to handle low-pin-count to high-pin-count devices. The system also leverages Advantest's innovative Tester-per-Site™ design. This allows each site to operate independently, enabling very fast test times and lowering the overall cost of test. Read More.
New T2000 AiR Targets Low-Volume Testing of Highly Integrated Modules and SiP Devices
Global market demand continues to grow for smartphones and other mobile electronic devices as well as consumer and enterprise services offered over the internet. This trend is driving the need for increased production of complex semiconductor devices and modules that integrate MCUs and application processors to perform multiple functions, including telecommunications, power management and sensing. Read More.
Advantest Plays Key Role in ITC with Extensive Program Participation and Exhibition
At the November 15-17 International Test Conference in Fort Worth, Texas, Advantest will demonstrate both hardware and online test solutions as well as serve on panels and present several papers in ITC's renowned technical program.
In addition to being a Platinum-level corporate supporter of ITC, Advantest also is a Gold-level sponsor of the IEEE Automotive Reliability and Test Workshop, in conjunction with ITC TestWeek™. Read More.

Advantest Explores the Internet of Things at SEMICON Japan
At the upcoming SEMICON Japan trade show in Tokyo on December 14-16, Advantest will bring the concept of Internet of Things (IoT) directly into our exhibit. The value of our products and what we enable will be the platform for how the products will be shown in the booth. Our products and services will be sorted into these four IoT segments: Industrial, Connected Home, Wireless/Wearables, and Connected Automobile. In addition to over 18 products and services featured in the booth, we plan to have more hardware and live demonstrations for each of these products than in previous shows. Read More.

Advantest Promotes Newest Test Solutions at Technical Kiosks During Semicon Taiwan
Advantest marked the occasion of Semicon Taiwan to host a two-day hospitality event at which customers were invited to learn about the company's new products and solutions while networking and enjoying refreshments in a relaxed setting. With solid attendance on both days, this year's event recorded the highest level of participation of the event's five-year history. Read More.

SPOTLIGHT ON IOT IMPACT ON TEST

Driving a New Paradigm: How the IoT Is Transforming Test
In this issue's Q&A feature, we talk with Derek Floyd, director of business development for Advantest America. Derek has presented at multiple conferences and workshops on the changes being wrought on the test industry by the advent of the Internet of Things (IoT), and how Advantest is uniquely addressing these challenges. Read More.
ADVANTEST NEWS



UPCOMING EVENTS



Please plan to visit or join Advantest at these events:
ISTFA2016
November 6-10, 2016, Ft. Worth, TX, International Symposium for Testing and Failure Analysis explores the latest apps and tools for the failure analysis lab.
http://www.asminternational.org/web/istfa-2016
Electronica
November 8-11, 2016, Munich, Germany, Electronica is one of the electronics industry's largest annual trade shows.
http://10times.com/electronica-germany
AAPS 2016
November 13-17, 2016, Denver, CO, AAPS advances the capacity of pharmaceutical scientists to develop products and therapies that improve global health.
https://www.aaps.org/annualmeeting/
Medica
November 14-17, 2016, Dusseldorf, Germany, Medica is the world's leading trade fair for the medical industry.
http://www.medica-tradefair.com/
ITC 2016
November 15-17, 2016, Ft. Worth, TX, The International Test Conference is the world's premier event dedicated to the electronic test of devices, boards and systems.
http://www.itctestweek.org
SemiIsrael
November 15, 2016, Airport City, Israel, SemIsrael Expo is the leading professional semiconductor event in Israel.
http://www.semisrael.com/
IEEE Workshop on Automotive Reliability and Test
November 18, 2016, Ft. Worth, TX, ART workshop focuses exclusively on test and reliability of automotive and mission-critical electronics.
http://itctestweek.org/papers/workshops
GSA Awards Dinner
December 8, 2016, Santa Clara, CA, The annual Global Semiconductor Alliance Dinner is the industry's premier event celebrating the achievements of semiconductor companies.
http://www.gsaglobal.org/gsa-events/
SEMICON Japan
December 14-16, Tokyo, Japan, SEMICON is Japan's premier exposition for the manufacturing microelectronics supply chain.
http://www.semiconjapan.org/en/?vlang=en
SEMICON Korea
February 8-10, 2017, Seoul, Korea, SEMICON is the largest microelectronics event in Korea.
http://www.semiconkorea.org/en/
ON THE LIGHTER SIDE…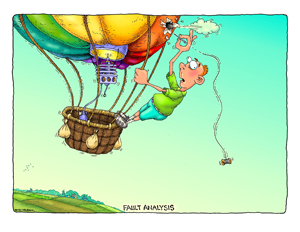 Do you have questions, comments or feedback about GO SEMI & BEYOND? Let us know!