Optimizing the True Cost of Test for SSDs
By Scott West, SSD Marketing Manager for Advantest America, and Mark Webb, Industry Consultant at MKW Ventures
With market analysts forecasting that production of solid-state drives (SSDs) will rise to more than 200 million units per year by 2017, device manufacturers need a reliable, high-volume, cost-efficient test solution to serve this rapidly growing market.
For SSD makers, focusing solely on the cost of test (COT) can be misleading. COT is calculated by dividing a piece of equipment's purchase price by its throughput. While this is a valuable metric, it provides only a snapshot of one point in the lifetime of a tester.
Look at Total Cost of Ownership
To more accurately gauge the economic performance of a tester over time, SSD manufacturers should look at the total cost of ownership (TCO), which takes into consideration not just an item's initial price, but also longer term considerations such as operating costs and maintenance. For instance, the expense of load boards and consumable materials, power usage, floor-space requirements and operator costs all factor into TCO.
Other considerations include intangibles such as service and support agreements, the length of cycle times and the turnaround time in procuring spare parts. Even an ATE supplier's "staying power" can affect TCO. This is because semiconductor manufacturers need reliable equipment suppliers that are guaranteed to be around to help them quickly ramp up capacity when needed, to continually find innovative ways to drive down the cost of test and to develop new test technologies to address tomorrow's market opportunities.
Maximize Your ROI
Because not all testers are created equal, throughput and productivity levels often vary for different systems. So meeting a chip maker's throughput needs could require only three testers from one supplier, but four systems from another. For example, a PC-based tester might handle 25,000 to 30,000 I/Os per second when testing SSDs with standard second-generation PCIe interface protocols. However, a high-performance system such as Advantest's MPT3000 platform, equipped with both address and data accelerators, can test eight SSDs simultaneously. This highly parallel testing translates to 260,000 I/Os per second, a throughput boost that dramatically improves TCO.
Another factor to consider is changing market conditions. While rudimentary PC-based testers may come with a lower initial price point, systems that are optimized for flexibility – with scalable architectures, the versatility to test a wide range of today's device designs and the forward-looking ability to be reconfigured to meet future needs – will provide significantly better TCO in the long run.
As an example, let's look at a SSD production facility using PC-based test equipment that is turning out a 50-50 mix of devices with PCIe interfaces and SAS interfaces. If market demand shifts and the company wants to adjust its production to 67 percent PCIe devices and 33 percent SAS products, it would need to purchase and ramp up more PC-based testers to handle the additional PCIe SSDs while idling some of its installed SAS-compatible testers.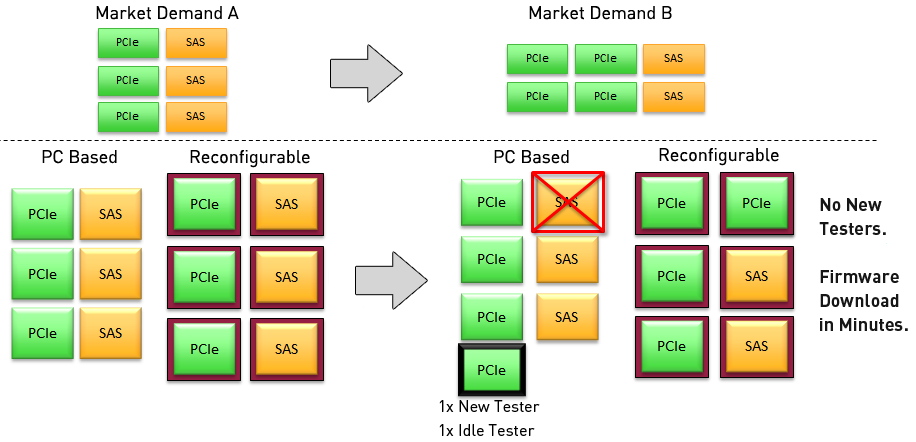 Only by using reconfigurable test equipment could the company accommodate the new product mix without buying extra capital equipment, dedicating more floor space and bringing in additional operators. Advantest's MPT3000 tester can be repurposed quickly and easily by downloading new firmware for SAS, SATA and PCIe protocols, making it the most flexible and extendible single-system test solution for SSDs.
A Future Enabled by Flexible Testing
The MPT3000's flexibility makes it an especially appealing tool for out-sourced assembly and test (OSAT) foundries, which offer SSD makers the opportunity to avoid capital costs in testing their devices. The OSAT business model is based on testing a wide variety of devices in high volumes for multiple customers so these foundry operations need highly versatile test equipment with true multi-protocol support in a single system. While the OSAT model is well established in testing most semiconductor devices, this approach is a new undertaking for the SSD market. Still, the advent of SSD-focused test foundries has strong potential to shorten the time to market and drive down the cost of test for new SSD products.
Young, fast-growing semiconductor markets are characterized by quick shifts in market demand, which force device manufacturers to be agile enough to quickly re-balance their manufacturing levels for various products. This puts a premium on highly flexible test capabilities. For the high-volume, cost-sensitive SSD market, Advantest's MPT3000 system provides the optimal solution.