December 2019 Issue
TOP STORIES
Semiconductor Test – Toward a Data-Driven Future
Integrating new and emerging technologies into Advantest's offerings is vital to ensuring we are on top of future requirements so that we are continually expanding the value we provide to our customers. Industry 4.0 is changing the way we live and work, as well as how we interact with each other and our environment.
Read More.
High-Speed I/O Testing with the Power of Two
As the internet backbone speed continues to spiral upwards, the interface speeds to the devices making up the cloud also continue to scale up. As many of these interface, server and artificial intelligence (AI) devices move both to 112Gbps data rates and multi-chip heterogeneous integrations, the industry is facing an increased need for at-speed testing in order to confirm truly known-good devices (KGDs).
Read More.
GO POLL
What area do you think will have the biggest impact on the semiconductor industry in 2020?
Share your thoughts by taking the GO POLL.
Have an idea for future polls? Email gosemi@advantest.com
SPOTLIGHT ON BUSINESS
Q&A Interview with Scott West – Expanding SSD Test Capabilities for Extreme Temperatures
Advantest has found great success with its test solutions aimed at the solid-state drive (SSD) market. In this issue of GO SEMI & Beyond, Scott West, Product Marketing Manager for System-Level Test, provides some background on how the company began to address this market, and shares details on its latest SSD offering, the MPT3000ARC, for validation testing to accommodate extreme thermal standards.
Read More.
FEATURED PRODUCT
Advantest's New Modules and Test Head Extend the T2000 Platform's Performance in Evaluating Automotive SoC Dev
Advantest Corporation has expanded the range of its T2000 platform with the launch of two new modules and a test head designed specifically for high-volume testing of devices used in automotive applications.  The new equipment is designed to enhance test coverage, enable higher parallelism and reduce the cost of test for system-on-chip (SoC) devices used in automobiles, a market segment that is projected to have a 9.6 percent compound annual growth rate from 2019 to 2022.
Read More.
FEATURED EVENT
Advantest Opens VOICE 2020 Registration and Announces Keynote Speaker for Scottsdale Event
The Advantest VOICE 2020 Developer Conference will return to two popular locations – Scottsdale, Arizona on May 12-13 and Shanghai, China on May 22 – with the tagline "Your Voice. Your Vision. Our Value." The learning and networking opportunities offered at VOICE through technical sessions, kiosk showcases, keynote speeches, partners' expositions and social events will expand in 2020 to include a follow-up day of workshops on May 14 in Scottsdale.
Read More.
FEATURED STORY
Evaluating a spring probe card solution for 5G WLCSP
With the deployment of the wireless 5G standard and its support for mmWave frequencies that allow gigabits-per-second data rates on the consumer market, the semiconductor industry needs reliable and low-cost test solutions. The 5G standard allows mmWave range frequencies from 24GHz to 28GHz—to frequencies as high as 44GHz, and possibly even higher.
Read More.
ADVANTEST NEWS
UPCOMING EVENTS
SEMICON Korea
Seoul, Korea, February 5-7, 2020
https://www.semiconkorea.org/en
Mobile World Congress
Barcelona, Spain, February 24-27, 2020
https://www.mwcbarcelona.com/
DATE 2020
Grenoble, France, March 9-13, 2020
https://www.date-conference.com/
SEMICON China
Shanghai, China, March 18-20, 2020
http://www.semiconchina.org/
SEMICON SEA
Kuala Lumpur, Malaysia, May 12-14, 2020
http://www.semiconsea.org/
VOICE Developer Conference
May 12-13, 2020, Scottsdale, AZ
May 14, 2020, Scottsdale, AZ
May 22, 2020, Shanghai, China
https://voice.advantest.com/locations-and-dates/
European Test Symposium
May 25-29, 2020, Tallinn, Estonia
http://www.ieee-ets.org/
SEMICON West
July 21-23, 2020, San Francisco, CA
http://www.semiconwest.org/
Flash Memory Summit
August 4-6, 2020, Santa Clara, CA
https://www.flashmemorysummit.com/
ON THE LIGHTER SIDE…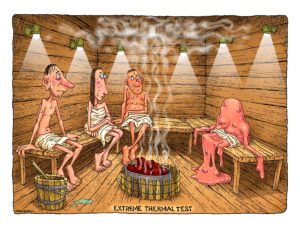 ---
Did you enjoy this article? Subscribe to GOSEMI AND BEYOND