February 2017
TOP STORIES



Known-Good-Die Testing of Complex Digital ICs
Large, thin and high-power digital ICs pose a number of challenges to the test process necessary for achieving true known-good-die (KGD). As these costly, fragile devices are destined for advanced 2.5D and 3D packaging solutions, advanced test capabilities and solutions must be implemented to reduce scrap assemblies and improve product margins. Read More.
IoT Devices Require a New DFT Paradigm and Scalable ATE
Touted as the "next big thing" to drive the next major wave of semiconductor device growth, the emerging market for the Internet of Things (IoT) is widely projected to increase semiconductor device volumes by tens of billions of units over the next several years. These volumes will be fueled by myriad new consumer end-user applications and services, to be provided by hundreds of companies ranging widely in size and resources. Read More.
Enabling High-Volume Optical and Electrical Test on 100Gbps Optical Interconnect Devices

High-speed data communications demand is rising at astronomical rates. According to a forecast from Cisco Systems, the volume of global data center traffic is expected to increase to more than 10 zettabytes per year in 2019. In response, new network architectures are being considered, while data centers are being housed in much larger buildings. As this requires interconnection devices (switches, routers, etc.) to support distances of as much as several kilometers, using electrical interconnection devices in these very large data centers is becoming impractical. Moving forward, optical interconnection devices will need to be implemented in high volumes, creating new test challenges. Read More.

FEATURED HIGHLIGHTS
Advantest Opens Registration for the VOICE 2017 Developer Conference with the Theme of "Measure the Connected World and Everything in It"
Advantest has opened registration to attend its VOICE 2017 Developer Conference being held in Palm Springs, California, on May 16-17 and Shanghai, China, on May 26. As VOICE kicks off its second decade, both conferences will feature the theme "Measure the Connected World and Everything in It."
Read More.
SEMICON JAPAN 2016 – Advantest Ushers in a New Era of IoT Solutions

Advantest showcased an innovative booth in celebration of SEMICON Japan's 40th anniversary during SEMICON Japan, held December 14-16, 2016. Inspired by the Internet of Things (IoT) theme, Advantest's booth was divided into the four segments of IoT: Connected Homes, Connected Automobiles, Industrial, and Wireless. Showcasing 19 of its products and services, the displays included several interactive demonstrations that incorporated virtual reality and augmented reality techniques, as well as mock-up system displays. Read More.

FEATURED PRODUCT
New Pick-and-Place IC Handler Improves Efficiency in High-Volume Semiconductor Manufacturing and Device Characterizations
With an eye on helping customers keep pace with the rapidly evolving system-on-chip (SoC) market, Advantest's new M4872 pick-and-place handler is designed to rapidly adapt to changes in device technology. It offers improved productivity in testing SoC devices in high-volume manufacturing (HVM) and device characterization pre-production environments.
Read More.
SPOTLIGHT ON ADVANTEST MANAGEMENT
Q&A: A Change at the Top  
Yoshiaki Yoshida became Advantest President and CEO in January 2017, replacing Shinichiro Kuroe, who decided to step down after serving in the role since August 2014. Under Mr. Kuroe's leadership, Advantest returned to profitability in fiscal 2014 and continued to build on that success over the next two years. Mr. Yoshida was elected his successor, and shares here his vision for taking the company forward. Read More.

ADVANTEST NEWS

UPCOMING EVENTS
Please plan to visit or join Advantest at these upcoming events:
Mobile World Congress
February 27-March 2, Barcelona, Spain:
https://www.mobileworldcongress.com/
SEMICON China
March 14-16, Shanghai, China:
http://www.semiconchina.org/
Date 2017
March 27-31, 2017, Lausanne, France:
https://www.date-conference.com/
VOICE USA
May 16-17, Palm Springs, CA:
https://voice.advantest.com/
VOICE CHINA
May 26, Shanghai, China:
https://voice.advantest.com/
SWTW 2017
June 4 – 7, San Diego, CA:
http://www.swtest.org/
ON THE LIGHTER SIDE…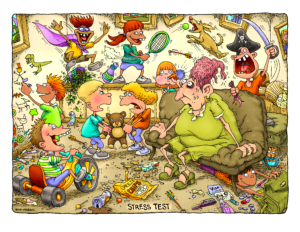 Do you have questions, comments or feedback about GO SEMI & BEYOND? Let us know!