May 2018 Issue
TOP STORIES
Booming DRAM Market Creates New Testing Opportunities
After more than a decade of logic/system-on-chip (SoC) devices taking the lead in driving semiconductor industry requirements, today's memory market is experiencing extraordinary growth due to a range of burgeoning applications that demand high-performance memory capabilities. This has led to what many in the industry have referred to as a memory "super cycle," in which sustained high demand is driving memory makers to boost their manufacturing capability to supply these devices in sufficient quantities.
Read More.
ADAS Extends Traditional Automotive Technologies for Autonomous Vehicles
Autonomous cars are one of the most topical, intensely discussed trends in the world today, and will likely continue to be so for the foreseeable future. The reality is that there are degrees of autonomy; if you drive a car manufactured within the last three to five years, you are already using some of this technology. Typically referred to as "passive" autonomous driving, this includes sensors that issue a warning beep when you're backing up, changing lanes, or come too close to the vehicle ahead.
Read More.
AI Today – We've Come a Long Way
Artificial intelligence (AI) has made amazing technological leaps since what some consider its first implementation: the first programmable digital computer, invented in Germany by Konrad Zuse in 1941. Since then, of course, AI has made amazing technological leaps, while at the same time incurring misconceptions on the part of many regarding its potential uses. Let's take a look at the current state of AI, and how it's being enabled by continued evolution of semiconductor technology.
Read More.
GO POLL



This month's GO POLL wants to know what you think about autonomous cars!
Share your thoughts by taking the GO POLL.
Have an idea for future polls? Email gosemi@advantest.com

FEATURED EVENT
Advantest's VOICE 2018 Developer Conference to Feature Innovative Technical Program, Forward-Looking Keynotes and Interactive Kiosks in San Diego, CA and Hsinchu, Taiwan
Advantest will hold its 12th annual VOICE Developer Conference on May 15-16 in San Diego, California, and on May 23 in Hsinchu, Taiwan, to help members of the international semiconductor community improve the efficiency and cost effectiveness of IC testing.  These international gatherings present industry professionals with opportunities to hear more than 90 technical sessions on the latest test technologies and techniques, meet with experts, visit the Partners' Expo, attend networking events and conduct in-depth discussions relating to a broad range of currently available IC test solutions.
Read More.
SPOTLIGHT ON BUSINESS

Q&A with Advantest President & CEO, Yoshiaki Yoshida discusses the mid-term plan, Grand Design
The subject of this issue's Q&A is Yoshiaki Yoshida, president and CEO of Advantest Corporation. He joined Advantest in 1999 and held a succession of leadership positions prior to being elected to his current roles in January 2017. He holds a degree in management from Yokohama National University. Mr. Yoshida recently introduced new business strategies that will guide Advantest's business both in the near term and over the next decade.
Read More.

FEATURED TECHNOLOGY

Advantest's Floating Power Source – the FVI16 – Extends V93000 Test Platform's Capabilities in Diverse Power-Management Markets
Advantest has extended the performance of its V93000 single scalable platform with the FVI16 floating power VI source for testing power and analog ICs used in automotive, industrial and consumer mobile-charging applications such as the growing e-mobility and rapid charger market. By supplying 250 watts of high-pulse power and up to 40 watts of DC power, the new source helps to provide sufficient power testing latest generation devices while conducting stable and repeatable measurements.
Read More.
FEATURED STORIES

Advantest Participates in Rebuilding Together for 12th Consecutive Year
On April 28, 2018 Advantest America sponsored, and took part in, "Rebuilding Day" in San Jose, California hosted by the non-profit organization Rebuilding Together Silicon Valley (RTSV). RTSV provides critical home repairs to community members as well as facility updates and maintenance to local non-profit organizations. Advantest's Spring 2018 project collaborated with Life Services Alternatives (LSA), a nonprofit organization that operates community-based homes that provide residential care and support for adults with developmental disabilities.
Read More.
Semiconductor Test Equipment for Enhanced Automotive Sensor Testing Debuted in Detroit SAE Conference
In April, Advantest exhibited at two consecutive automotive sensor conferences — ADAS and SAE World Congress Experience – both located in the Detroit, Michigan area.  Both shows featured the HA7200 system, capable of precisely controlling the temperature and pressure in testing automotive pressure sensors. Integrated with the EVA100, the HA7200 offers a sensor test cell optimizing engineering, prototyping and manufacturing processes.
Read More.

ADVANTEST NEWS
UPCOMING EVENTS
Please plan to visit or join Advantest at these upcoming events:
IEEE NATW
Essex, VT, May 7-9
http://natw.ieee.org/
GSA Global Leadership Summit
May 16, Shanghai, CH
https://www.gsaglobal.org/2018gls/
VOICE 2018
May 15-26, San Diego, CA
May 23, Hsinchu, Taiwan
https://voice.advantest.com/
SEMICON Southeast Asia
May 22-24, Kuala Lumpur, Malaysia
http://semiconsea.org/

SEMICON West
July 10-12, San Francisco, CA
http://www.semiconwest.org/
Test Vision 2020
July 11-12, San Francisco, CA
http://www.semi.org/en/testvision-2020

Flash Memory Summit
August 7-8, Santa Clara, CA
https://flashmemorysummit.com/
ON THE LIGHTER SIDE…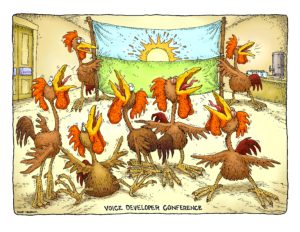 Do you have questions, comments or feedback about GO SEMI & BEYOND? Let us know!