Semiconductor Test Equipment for Enhanced Automotive Sensor Testing Debuted in Detroit SAE Conference
In April, Advantest exhibited at two consecutive automotive sensor conferences — ADAS and SAE World Congress Experience – both located in the Detroit, Michigan area.  Both shows featured the HA7200 system, capable of precisely controlling the temperature and pressure in testing automotive pressure sensors. Integrated with the EVA100, the HA7200 offers a sensor test cell optimizing engineering, prototyping and manufacturing processes.
ADAS which was held April 4-5 in Dearborn, allowed Advantest to showcase this advanced test solution for microelectronic pressure sensors used in making advanced driver-assistance systems (ADAS) for the global automotive market.  
At the Society of Automotive Engineers (SAE) World Congress Experience (WCX), Advantest featured the test cell focused on semiconductor-based pressure and temperature sensors.  The show was held April 10-12 at the Detroit Cobo Center. In addition to showcasing our solution, Judy Davies, Advantest vice president of Global Marcom, moderated a roundtable discussion on the evolving automobile industry electronics requirements with panelists from Elektrobit, Flex, Intel, Qualcomm, General Motors, and Harman. SAE WCX event had more than 9,800 engineering industry professionals from over 55 countries, with key auto companies such as Ford, General Motors, Honda, Toyota, etc., maintaining a high profile at the event.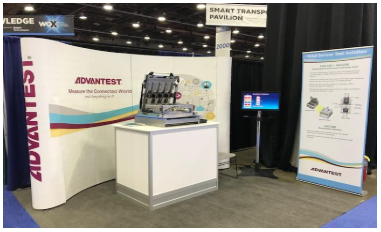 Advantest's WCX18 SAE World Congress Experience booth featured the HA7200 test cell focused on semiconductor-based pressure and temperature sensors.