Q&A Interview with Sae Bum Myung
By GO SEMI & Beyond staff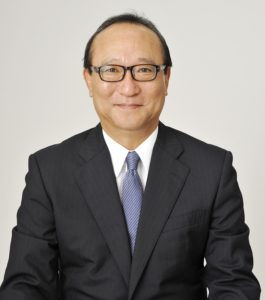 In this issue, our Q&A subject is Sae Bum Myung, a corporate vice president and executive vice president of worldwide sales for Advantest Corporation. He joined the company in April 1989 and has served in a succession of leadership roles during his nearly three decades with Advantest. Mr. Myung obtained his master's degree in engineering from Tokyo's Meiji University in 1989.
Q. What trends are advances in semiconductor technology enabling, and for what key markets?
A. Unprecedented demand for semiconductor memories has led to the current industry "super cycle." In turn, semiconductor technology innovations continue to create new growth opportunities in several areas, such as data centers and smart cars. As many are aware, leading market-research firms are forecasting that automotive electronics will be the fastest-growing segment for semiconductor applications over the next few years.
Artificial intelligence (AI) is another vital, new application enabled by advanced sensors, microprocessors and memory devices. The integration of these semiconductor functions is driving the synergistic growth of both AI and the Silicon Age.
Q. What are some additional trends you're seeing for the year ahead?
A. Demand for liquid crystal and organic light-emitting diode (OLED) panels continues to be strong, as is demand for systems that can test high-performance logic ICs used for AI servers and cryptocurrency mining.
Q. How are these broadened market applications impacting test?
A. In addition to increased demand for both memory and automotive semiconductors, Advantest is working to boost sales of peripheral devices for semiconductor testing as well. We've also taken steps to increase production capacity in order to keep up with the steep increase in demand. As a result, total orders received in our fiscal year 2017 increased more than 50 percent over the prior fiscal year, and net sales increased nearly 33 percent year-over-year. Both showed their highest level of performance in 11 years, since fiscal 2006.
Q. Are you seeing growth in all regions of the world?
A. Amidst aggressive investment by non-Japanese chipmakers, Advantest's proportion of sales outside Japan increased to 93.2 percent in fiscal 2017. Orders increased across the board in South Korea, Taiwan, China and other areas with sizable semiconductor product bases, including Southeast Asia.
Q. In this market environment, what else must a company like Advantest do to ensure customer needs continue to be met?
A. Customer support means more than simply increasing production levels to meet market demand. It also means working to create innovative, industry-leading solutions that advance the state of technology. It means delivering highly productive and cost-efficient test solutions. And it means providing around-the-clock technical service. Our close, collaborative customer relationships allow us to keep our finger on the pulse of the industry and ensure that we have their collective insights into the best practices for evaluating ICs as well as test technologies for the newest applications.
Q. Advantest recently achieved a customer-approval milestone, having been named to the 10BEST list in the annual VLSIresearch Customer Satisfaction Survey for 30 consecutive years. How has Advantest been able to consistently achieve a 5-star rating on this survey from its global customers?
A. By never taking our customers or their requirements for granted. Our relationships with our customers are symbiotic in nature – their business challenges become our challenges, as well. They want our assurance that the solutions they purchase from us are not mere quick fixes, but can deliver long-term results, with built-in ability to grow as their needs evolve. We are gratified that customers appreciate our efforts and take the time to say so when responding to the annual VLSIresearch survey.