T5833 Memory Test System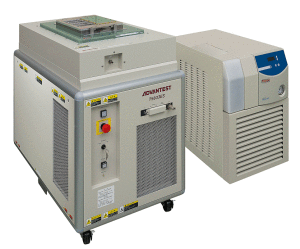 To keep pace with users' performance demands in the booming market for mobile electronics, the semiconductors that drive smart phones and tablet computers as well as the servers that support them – primarily DRAMs, NAND Flash memories, multi-chip packages (MCPs) and next-generation non-volatile memories including MRAM, RRAM and PCM — are becoming faster and higher capacity. This raises the need for test solutions that have both the high functionality to test today's most advanced memory ICs and the cost-efficient operation to address high-volume consumer markets.
The versatile T5833 memory test system combines industry-leading performance and low cost of test to maximize customers' return on investment. The tester is designed to perform both wafer sort and final test across a wide range of memory devices including LPDDR3-DRAMs, MCPs, high-speed NAND flash memories and next-generation non-volatile memory ICs.