Visit Advantest at the Flash Memory Summit and Intel Developer Forum in August
Advantest will exhibit its MPT3000 family of test solutions for advanced solid state drives (SSDs) and present a technical paper at the Flash Memory Summit, August 11-13 in Santa Clara, Calif. Advantest is an Emerald sponsor of this year's tenth annual Summit. Later in August, Advantest will showcase its advanced test solutions for emerging market segments including the Internet of Things (IoT) and wearable electronics at IDF15, the Intel Developer Forum, in San Francisco.
Flash Memory Summit
Designed to help accelerate SSD product development and achieve faster time to market, Advantest's flexible, multi-protocol MPT3000 platform will be featured in booths #606-608 within Hall B of the Santa Clara Convention Center during the Summit's exhibition days of August 12-13.
The MPT3000ENV leverages its modular, tester-per-DUT architecture to conduct performance and stress testing of PCIe NVMe, SAS 12G and SATA SSDs of all major form factors in a thermal chamber supporting up to 6.4kW total DUT power dissipation. This tester gives customers the adaptability to compete in the evolving SSD market.
Advantest's MPT3000ES engineering station uses the same high-performance electronics and software as the MPT3000ENV, but offers a smaller footprint configuration. The engineering station can perform analysis and debugging on a wide range of SSD products enabling device manufacturers to pursue multiple business opportunities with a single test platform. Live demonstrations of the MPT3000ES testing devices of multiple protocols will be shown in the booth.
In addition to its exhibits, Advantest will present a paper on testing SSDs. Speaker Scott Filler, marketing manager at Advantest, will discuss the cost of test for SSDs during the F-21 Forum. This forum will be held in the Great America Ballroom J at the Santa Clara Convention Center on Wednesday, August 12, beginning at 8:30 a.m.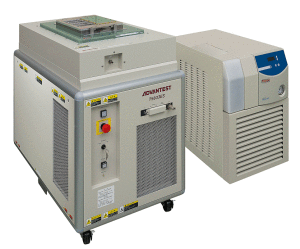 Intel Developer Forum
From August 18-20, Advantest will showcase its advanced test solutions for emerging market segments including IoT and wearable electronics at IDF15, the Intel Developer Forum, in San Francisco. In booth #955 at Moscone Center's West Hall, Advantest will display its new T5833 and proven T5831 memory testers, which are built on Advantest's modular AS Platform.
Advantest's new T5833 system is a high-volume, versatile test solution designed for both wafer sort and final test of LPDDR3-DRAMs, high-speed NAND flash, multi-chip packages (MCPs) and non-volatile memory devices – the primary memory ICs used in smart phones and tablet computers. With a parallel test capacity of 2,048 devices for wafer test and 512 devices for final package test, the T5833 lowers costs by significantly reducing test times and boosting throughput.
The cost-efficient T5831 system, already installed for high-volume manufacturing, supports testing of all NAND flash devices, including all ONFI, Toggle, 3D NAND and eMMCs, and mobile DRAMs in MCPs. Both T5833 and T5831 are built with high-throughput Tester-Per-Site™ architectures and the semiconductor industry's highest power supply current per device under test (DUT), making them ideal test solutions for current and next-generation memory devices.
Since both testers are built on Advantest's modular AS Platform, they enable each customer to choose the optimal system configuration for its specific needs. The platform's module upgradeability allows it to handle current and future generations of devices, and its scalability increases throughput, all of which generates greater return on investment.
At IDF15, Advantest will exhibit within the DDR4 Memory Community, a collection of suppliers from the memory IC ecosystem that are spearheading the development of the upcoming fourth generation in double data-rate (DDR) memory technology. DDR4 is the newest DRAM technology, offering increased speed, reduced power, higher capacity capabilities and greater reliability for applications including enterprise and client systems.