Advantest Concludes Successful SEMICON West 2023 with Exceptional Booth Attendance
Advantest participated in SEMICON West 2023 on July 11-13 at the Moscone Center in San Francisco, California, which had a vast increase in overall attendance. There was a significant increase in foot traffic at Advantest's booth as well, doubling the visitor count of last year. Advantest employees hosted many key customers and media outlets at the booth, showcasing our latest leading-edge test solutions.
Under the theme of "Beyond the Technology Horizon," this year's product showcase included our V93000 EXA Scale XPS module, inteXcell, ACS, T2000, and memory test platforms, highlighting our broad portfolio. We also promoted our ongoing corporate ESG initiatives. An AR/VR demo of the inteXcell and AI-generated portrait drawings from the ACS team, utilizing state-of-the-art technology, attracted crowds of interested parties who were eager to learn more about Advantest's products. 
In addition to the product showcase, Advantest employees gave six presentations at the 2023 Test Vision Symposium. Advantest sponsored the 2023 Workforce Development (WFD) and High-Tech U (HTU) programs, offering industry insight to young professionals and students looking to learn more about semiconductor technology and career opportunities in the industry.
Thank you to everyone who contributed to the success of SEMICON West 2023, and we look forward to next year.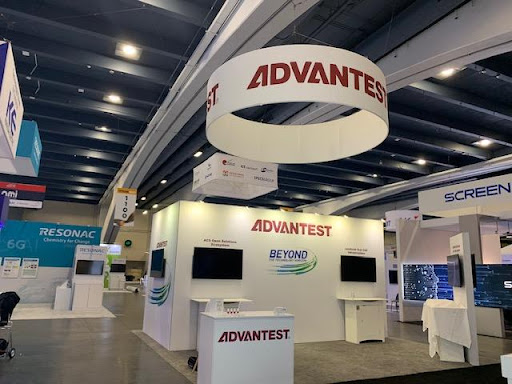 Advantest's booth at SEMICON West 2023.