Advantest Extends its Global Reach at the First-Ever Virtual SEMICON West 2020
Contributed by Jess Nguyen
For the first time, the SEMICON West 2020 trade show commenced on July 20-23, 2020 as a full-on virtual event. To stay connected with its customers, Advantest returned as a Gold Sponsor and exhibited a virtual booth featuring graphics and videos of its latest end-to-end IC test solutions for cutting-edge applications such as 5G and artificial intelligence (AI).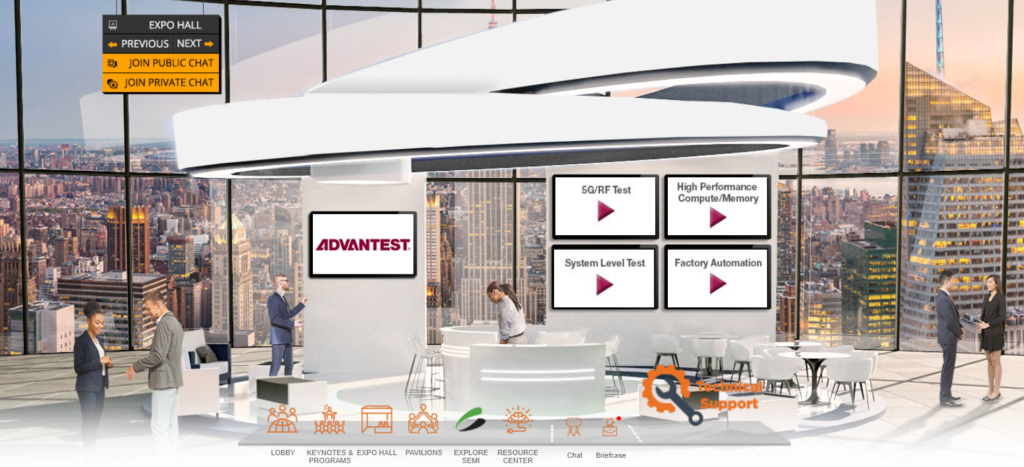 Drawing nearly 480 booth visitors, Advantest showcased its novel V93000 Wave Scale™ RF8 card for testing 5G-NR transceivers and connectivity-ICs operating at frequencies up to 8GHz, along with its new myAdvantest online portal, a platform providing 24/7 access to web-based services including the new Test Engineering Cloud (TE-Cloud™).  Other displays included comprehensive test cell solutions for AI and high-performance computing (HPC) applications using the V93000, T5800 series, or T5503 testers; Advantest Test Solutions (ATS) and the MPT3000 series test platform for integrated system-level test (SLT); and an array of software tools and services for enhancing test performance. 
Advantest was also a sponsor of the Test Vision Symposium and presented live during two of the sessions. Adrian Kwan, senior business development manager, presented on "5G NR Semiconductor Test Challenges", and Zhi-Jun Xue, consulting manager, presented on "Test Cell Management for Enabling SMART Manufacturing". For the SMART Mobility Pavilion, Masashi Nagai, senior executive director, presented "Driving for Perfection: Finding the Optimum Test Solution for Next-Generation Automotive ICs" which was made available for on-demand viewing. 
To support the next generation of industry professionals, Advantest sponsored and participated in the SMART Workforce Pavilion and SEMI's High-Tech U program for the third consecutive year. This career development program was designed to inspire and assist college-level students with their job search during these uncertain times. Advantest contributed a video featuring anecdotal tips for navigating a virtual job search environment.
Joining in on the first virtual SEMICON West was a valuable, unique experience for Advantest. The SEMI virtual trade show served numerous industries including the semiconductor, sensors, MEMS, photonics and the automotive sector. With 67 different countries represented at the event, it presented us with an opportunity to demonstrate both our commitment to the semiconductor industry and our ability to continuously adapt to new ways of collaborating and networking with our global customers, partners and employees. Our "yes" attitude, which is a component of Advantest's core values, allows us to take the bold steps needed to be at the forefront of innovative technologies and leadership.